Our talc-free baby powder soothes baby's bottom + rolls, helping to keep skin dry and rash-free.
Organic arrowroot powder and kaolin clay absorb moisture.
Organic powdered herbs like lavender, chamomile and calendula soothe the skin and prevent irritation.
One large tube may last from infancy to toddlerhood depending on frequency of use.
For more information on how to best care for baby's skin, click here.

Apply powder to baby's bottom after wiping to keep fresh, dry and clean.
Powder may also be used all over baby's skin to prevent irritation and chafing.

 

INGREDIENTS: Kaolin Clay, Arrowroot Powder*, Lavender Flower*, Chamomile Flower*, Calendula Flower*

*ORGANIC

 
Customer Reviews
Write a Review
Ask a Question
09/08/2019
Lauren G.
United States
Great Face Powder Alternative!
So I actually purchased this because I wanted to try it out as a makeup setting powder. All the nontoxic face powders are too pricey for me. I had made my own in the past with corn starch but that dried out my face really badly. This however works perfect! It keeps me matte and doesn't dry out my face. LOVE it as a translucent face powder alternative! Can't beat the price either!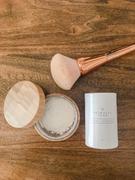 08/19/2020
Jammy W.
United States
Pure and Fresh
Living in a hot and humid climate I've long reached for body powders to keep skin from getting sticky. Through the years I've learned that most of these powders contain unwanted, harmful ingredients. With perfectly pure ingredients and a nice subtle scent, this powder keeps me fresh and dry with just a small dusting.
08/12/2019
Karissa L.
United States
The best stuff!
My girls (1yr and 2.5 yrs) have sensitive little bums and it seemed that lately bum creams just weren't quite doing it. So I tried this baby powder and fell in love! It was perfect for what we needed and so nice to know that what I'm putting on my babies bums is clean and not going to cause MORE problems! I need to buy more because we had a "left the 2 year old alone for too many minutes" incident. But we are customers for life!!!
05/18/2018
Ashley R.
United States
Amazing Product
I've used this product for my own skin after suffering a rash caused by a baking soda sensitivity when I decided to try a different brand's natural deodorant. Within days my rash and discomfort cleared, and I am happily back to using my beloved Primally Pure Lavender Deodorant and looking/feeling great!
11/30/2020
Karly D.
United States
Perfect powder
Keeps my baby dry and rash free! I also love dusting it on my feet.
v