Customer Reviews
Write a Review
Ask a Question
Love Primally Pure
My husband always gets bad eczema, and 10 months ago he had a spot on his wrist that got infected and started to grow. We tried EVERYTHING on his wrist. Two different types of antibiotics (after getting cultures), steroid creams, laser treatments, essential oils, manuka honey, cutting open a prickly pear cactus and spreading it all over his wrist... Nothing was working after 9 months of diligently trying to attack it and Dr. appt after Dr appt. I've been a primally pure customer for almost 2 years now and had some baby balm in my closet, so we started putting some of the baby balm on his wrist and it immediately started to improve. Its been a little over a month now that he's been using only baby balm on it, and it is almost completely cleared up. I know this wont be the story for situation, but baby balm had just the nutrients in it that my husband's wrist needed and we are so thankful to have found something that finally helped him. THANK YOU Primally Pure!! I love to praise all of your products because they are SO good!
Love this product
My newborn had terribly dry skin and cradle cap. It was red and irritated. I didn't want to put any chemicals on his skin so I ordered the baby balm. Within 2 weeks, all his skin is better and baby smooth. So thankful for natural products that work!!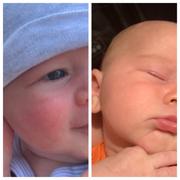 Hi Lauren, congratulations on your beautiful baby! We're so happy to hear that our Baby Balm could help with his skin. Warmest wishes to you and your family!
01/29/2020
Alisha
United States
Under eye care
I reached out out to Primary Pure for recommendations for eye cream & wasn't disappointed. the baby balm works as a great under eye cream. A little goes a long ways!!
Great for Baby and Mama!
I have been using this on my newborn since her first bath and it is great! After reading one of the recent blog posts, I have started using the balm as eye cream and on my neck and chest! The small one is great for travel or to have in your diaper bag.
Hi Lyndsay, We are SO happy to hear that you and your baby are both benefiting from our good-for-you products! Baby Balm is one of our favorite multi-purpose products and we hope you continue to use it for years to come. :) Feel free to reach out to us over at Hello@Primallypure.com if you have any questions or concerns. Best,
08/06/2019
Elizabeth P.
United States
Perfect!
Love this moisturizer to follow double cleansing! My skin is clearly getting a boost—even my husband can tell!
v