Our Ridged Facial Rollers create healthy skin holistically by stimulating lymphatic drainage, detoxifying skin tissues and boosting blood flow to feed the skin from within. With the addition of ridges, along with the specific gemstone properties, our facial rollers provide even more visible benefits by powerfully targeting specific skin needs.
Yellow Nephrite reduces inflammation, minimizes puffiness, encourages circulation, diminishes discoloration from sun damage + acne scarring to support seriously glowing skin.
This stone is known to support emotional well-being by enhancing feelings of positivity while minimizing the effects of stress. It's also believed to support digestion and a healthy gut - the perfect stone to help promote a clear, bright complexion, holistically.

Ridged Roller: Apply Clarifying Serum and/or Beauty Cream to freshly cleansed skin to provide proper slip. Always start with the neck and move upwards, using light/short strokes to stimulate lymphatic flow and circulation. Incorporate more medium/firm pressure to target muscle tension and help reduce signs of aging + discoloration while working around active acne breakouts to promote healing.
Rounded Handle: Use this end to stimulate acupressure points along the face to release tension and rejuvenate skin from within.
Keep in the fridge/freezer to decrease puffiness, tighten skin, and refresh your complexion.
We recommend spritzing your Gemstone Roller with our non-toxic Hand Sanitizer or washing with warm + soapy water after each use.

 

Our Gemstone Rollers are crafted from sustainably sourced Nephrite Jade stone and come packaged in Organic + Fair Trade pouches.

Each stone is unique and the colors vary due to the natural diversity of Nephrite Jade.

 
Customer Reviews
Write a Review
Ask a Question
10/19/2019
April B.
United States
Intuitive Skin Care
I chose this roller because it was visually appealing to me. Little did I know the yellow nephrite actually possessed the properties that my skin and whole being desperately needed. Reduces inflammation, Enhances feelings of positivity, minimizes effects of stress, supports your digestion + gut health. 'Umm Yes Please'! Intuitive skincare ? I would definitely say so! You'll love using this yellow nephrite ridged roller. I have also had fun running it under different water temperatures before use as the stone holds the warmth or coolness that you choose as your rolling your serum in!!
02/04/2020
Molly L.
United States
Relaxing & works!
This is my second roller from PP. While I will say it's not AS well made as my rose quartz one, I still really enjoy it. The roller part seems to be a little loose. I use this to roll in the clarifying CBD serum and while I can't say for sure, I do think my acne scars are diminishing with regular use!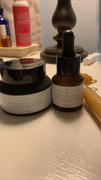 11/03/2019
Lauren
United States
Best Roller Ever!
I've purchased several jade rollers in the past and they all break. This one has side inserts that help it not pop out and is just overall wonderful quality. I LOVE the ridges and the yellow nephrite stone is amazing. Could not recommend more! Just bought the rose quartz one too, as I loved this one so much.
05/01/2020
Emily L.
United States
High Quality
This roller is high quality and very sturdy. It rolls very well and the ridges make lymphatic drainage even more effective. I would recommend it to anyone.
02/03/2020
Andrea E.
United States
Love this roller!
I LOVE this roller. I am not a fan of double-sided rollers so I love having this single-sided roller. A plus is that, it is even ridged. I love the texture of the ridges and helps to really work my serums and oils into my face. I definitely see the difference in my face after using this roller. Highly recommended.
v