CLARIFYING SERUM (.5 oz) + YELLOW NEPHRITE RIDGED ROLLER
Our Clarifying Serum minimizes breakouts and brightens uneven skin tone, while Yellow Nephrite is known to enhance emotional well-being and decrease the effects of stress - the perfect combo to help promote a clear, bright complexion and sense of wellness.
Customer Reviews
Write a Review
Ask a Question
10/27/2019
Katie
United States
Absolutely Love!
I have only had this combo set for 1 week and have been using it consistently. I have had a difficult time finding a perfect skincare routine as I have combination/ oily skin and have recently been suffering with hormonal acne along my jawline. I have kept with a healthy diet and skincare routine but had not noticed any change for ~5 months. I just recently started Primally Pure's skincare routine and added this into it to increase movement to areas of congestion. I have noticed a drastic decrease in congestion along my jawline just within 1 week. I know the routine says to give this time to make sure the skin adapts, although I am completely enthused I have already noticed this much change. Thank you Primally Pure for continuing to add to your skincare line to help with all skincare needs!
02/14/2020
Samantha
United States
Yes to the serum, No to the roller...
I'm sad to give such a poor review on this purchase. I love this company and so when I saw the roller available here I thought I would be putting money into something of good quality. Unfortunately, my roller has broken after less than a months use (it's taken me a while to write this review). I do love the serum but why spend so much on a roller here if it's just going to break? Same quality for less other places.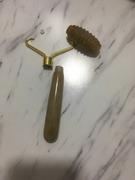 Hi Samantha, Thanks so much for taking the time to review our Clarifying Combo Kit! We're so sorry to hear that the roller for this product has broken and have reached out to you with a solution that we hope you'll find helpful! We appreciate your feedback and hope you'll always feel free to connect with our customer experience team at hello@primallypure.com. All the best,
10/06/2020
Melissa G.
United States
Clarifying Combo
The serum has really helped to massively reduce breakouts. Especially helpful when having to wear a mask. I feel like the roller really helps to increase absorption and improve blood flow/circulation. It's just a nice little spa moment before bed!
09/20/2020
Mary
United States
yes yes yes
I've been using both the roller and serum daily for months. Cannot recommend enough -- i have very sensitive / acne prone skin this combo has been both clarifying and soothing, just what i need.
09/04/2020
Elizabeth B.
United States
Love love love!!
I LOVE this serum! I have seen such great results from using it daily. I also love the roller when I want to not go through my whole Gua Sha routine. I put the roller in my refrigerator for a cool, refreshing facial massage for those warm summer nights.
v