Fancy Face Serum contains a vitamin and antioxidant rich blend of the most potent + healing oils our planet has to offer. Great for all skin types, Fancy Face Serum helps to diminish fine lines, scarring, age spots, discolorations and more.
The pure + unrefined oils in this serum give it a rich, earthy aroma.
Our pregnancy/breastfeeding formula is made without neem oil, thyme essential oil, cypress essential oil, and carrot seed essential oil.
Tamanu oil is widely renowned for its unrivaled healing properties, and large amounts of research have proven it to be extremely effective in helping with skin issues such as scarring, minor sores/cuts, acne, rashes, and more. The tamanu tree is indigenous to Southeast Asia and natives believe it to be a sacred gift of nature.
Easily absorbed by the skin, hazelnut oil is an astringent oil that is ideal for purifying and clearing the complexion. Hazelnut oil is especially effective in balancing oil production and treating acne-prone skin.
Rich in vitamin E and essential fatty acids, neem oil has been used for hundreds of years to treat damaged skin. Neem oil is well known for its ability to rejuvenate skin cells, protect against environmental damage, prevent signs of aging, reduce inflammation, and fade the appearance of scars.
Pumpkin seed oil contains an impressive profile of nutrients, including Omega-3 and Omega-6 (in unison, these fatty acids can reduce inflammation and prevent/reverse skin damage), antioxidants (which mitigate the spread of harmful free radicals), Vitamins A and C (anti-aging), zinc (helps to clear the skin), and more.
Sea buckthorn oil prevents/reverses signs of aging and heals burns, cuts, and other sorts of skin inflammation. Sea Buckthorn Oil contains 12 times as much Vitamin C as an orange, 3 times more Vitamin A than carrots, loads of antioxidants, and many other nutrients that are extremely effective in healing, hydrating, and regenerating skin cells.
Argan oil is quickly becoming a skincare staple ingredient in many personal care products, and for good reason. It's impressive nutritional profile can help to eradicate acne, under eye circles, fine lines, and sun damage while also moisturizing and nourishing the skin.
The baobab tree is known by locals in its African habitat as the "tree of life". Baobab oil is rich in vitamins A, E, and F making it an ultra nourishing and moisturizing ingredient choice.
More similar to our skin's own sebum than any other oil, jojoba oil is a gentle and nourishing oil that's extremely effective in adding moisture back into the skin. This oil is easily absorbed and ideal for balancing oil production and banishing acne.
Pomegranate seed oil is well known for its high antioxidant levels and its ability to aid in healthy skin cell regeneration. Because of this oil's high antioxidant content, pomegranate seed oil is excellent at fighting free radicals that damage skin cells and age the skin.
A member of the same botanical family as frankincense and myrrh, elemi essential oil has been traditionally used in Europe for many years to reduce the appearance of fine lines and wrinkles.
Cypress essential oil is especially beneficial for oily or troubled skin and is well known for its ability to tighten loose skin and increase skin cell circulation, enlivening the skin and allowing it to function and detoxify properly.
Widely known for its ability to heal a vast array of undesirable skin conditions, lavender essential oil is one of the most versatile oils used in skincare and can assist in treating conditions such as acne, psoriasis, eczema, wrinkles, wounds, and more.
Recognized by many for its ability to aid in healthy skin cell regeneration + preserve the health of existing cells, frankincense essential oil is known to restore health and vitality to damaged and/or aging skin.
Carrot seed essential oil is rich in antioxidants that are known to repair damaged skin, reduce fine lines, and diminish skin discolorations. This potent essential oil also works to add elasticity to the skin and give the complexion a youthful glow.
Helichrysum essential oil is superior in fading age spots and skin discolorations and is especially effective at improving the appearance of sensitive skin.
Because of its powerful antibacterial properties, thyme essential oil is extremely effective in healing acne and preventing breakouts.
Due to its detoxifying, stimulating, and purifying effects, lemon essential oil is ideal for brightening skin tone, reducing pore size, and eradicating discolorations.

After cleansing, apply 4-5 drops to entire face once per day.
Store Fancy Face Serum upright, as the essential oils in this product are extremely concentrated and may begin to dissolve the rubber in the dropper lid over time.
Best if used within 12 months.

 

INGREDIENTS: Tamanu Oil*, Hazelnut Oil*, Neem Oil*, Pumpkin Seed Oil*, Sea Buckthorn Oil*, argan oil*, Baobab Oil*, Jojoba Oil*, Pomegranate Seed Oil*, Elemi Essential Oil*, Lavender Essential Oil*, Cypress Essential Oil*, Frankincense Essential Oil*, Carrot Seed Essential Oil*, Helichrysum Essential Oil*, Thyme Essential Oil*, Lemon Essential Oil*

*ORGANIC

 
Customer Reviews
Write a Review
Ask a Question
I have fallen victim to this miracle oil
Preface: I have pretty gnarly rosacea/acne. Hellooooo, mid 30s! After months of taking an **** antibiotic and hating my life for it (but it did work for the rocasea!), I finally looked into a natural alternative. I already live a relatively natural lifestyle but this meant that I had to change my beauty regimen even further... no alcohols, etc. After a week of not taking my Doxy, the rocasea was back. So I purchased the Everything Spray and this Face Serum as my toner and moisturizer. Literally within about 2 days my face was cleared up. It's been weeks and it's still the clearest it's ever been! Sure, the serum has an orangish tint like some other reviews are complaining about, but in my experience it absorbs easily and is no big deal at all. So worth it. I'm a lifer. I want to add that my daughter suffers from scalp erosions due to extodermal dysplasia. I can't tell you how many dermatologists we have seen to no avail, there is no answer (especially not a natural one) to tone down her inflammation and heal her acne-like sores....to the point where she has a lot of hair loss in those areas. She also seems to thrive on humidity and flares up with dryness. So it just hit me the other day...I started using this serum on her scalp and I'll report back after I see results! So far so good! I love that I'm able to moisturize her scalp in a healthy way and I'm really hoping this helps her like it's helped me. Thank you for making such great products!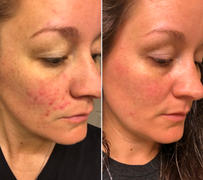 11/06/2019
Emily S.
Canada
Worth all the hype and more!
I usually don't write reviews, but every once in awhile there's a restaurant, Etsy shop or product that is so phenomenal that it only seems right to post a glowing report- and man oh man this stuff is the BEST. I'm fairly new to Primally Pure, having only ordered twice, and I've LOVED everything I've bought so far. It's hard to choose a favourite from my stash but the fancy face serum and blue tansy beauty cream are a perfect combo that leaves my skin glowingly fresh, renewed and super soft. Every night I use four drops of the FF serum and massage it into my skin and then I apply two generous swipes of BT beauty cream and massage that into my skin too. I love the smell, feel and well thought out mixture of super-skin-food ingredients. If I had one complaint it would be that the fancy face serum doesn't come in a larger size (and being in Canada I get hit with rather hefty duties on top of the luxury pricing and the dollar conversion which makes repeat buying that much harder on my wallet and tight income). It would be really nice if PP could figure out a way to avoid the extra duties for Canadian customers- maybe even by offering us neighbours to the north a purchase code that takes away a percentage to compensate for the extra border charges- otherwise I might not be able to afford to be a regular :'( Bottom line: buy this serum- your face will thank you!
Miracle serum!
My skin took a turn for the worse during peri-menopause/menopause (I'm 51). I've had an itchy, scaly rash on my face for over two years. Even the dermatologist's prescription face wash did not help. On the recommendation of someone I trusted, I tried Primally Pure. This serum is a miracle potion. After only TWO DAYS, my face cleared up and has stayed clear. I only need to use 3 or 4 drops, which spreads smoothly over my face, especially if I spray with complexion mist right before hand. The smell of the serum is a little odd at first, but now I actually love it. My face feels (and looks) amazing!
Must Have Item!!
I'm a newbie to face serums and this is a must have product for me. I put it on at night & the results are incredible the next morning. It clears pimples, cleans out my pores, and leaves my skin looking fresh. I've loved this every single time I've used it & plan to repurchase when I'm out! Honesty moment the smell is not the best BUT I've found that if you put the beauty cream over top the smell quickly fades! The results of this product are incredible, if you are interested I highly recommend.
07/12/2019
Katie L.
United States
Best products, even better customer service
I have been using PP for a little over a month now and waited until now to write a review to ensure I really LOVED them. These products have changed my skin and it was imperative I found clean products to help get my endorcrine system back in balance. All other clean products I had tried did not work for me. I have sensitive skin and KP on my cheeks - so I needed a product line that would show results beyond moisturizing. Love this team, their mission their products. I recommend them to anyone I talk to.
v