Based on the scientific principle that like dissolves like, the oil cleansing method utilizes beneficial oils that penetrate deep into pores to dissolve grime and build-up. Our Cleansing oil for acne deeply cleanses the skin while promoting more balanced oil production.
Specifically formulated for oily skin, this product is made with a blend of oils known to detoxify the skin, clear acne and dissolve impurities without drying it out and forcing the skin to over-produce oil/sebum (which can lead to a vicious cycle of ongoing breakouts).
Please keep in mind that it may take 2-3 weeks for your skin to fully adjust to this method of cleansing, as your complexion may need some time to fully detoxify from build-up.
For an ultra deep + effective cleanse, we recommend double cleansing with our our oil cleanser for oily skin followed by our Baby Bar.

Massage a quarter-sized dollop of cleansing oil for acne onto dry facial skin for 60 seconds.
Wet a clean washcloth with warm water and place it onto face until washcloth cools.
Gently wipe away impurities + excess oil with washcloth.
Click here to read up on how to follow the oil cleansing method with double cleansing.

 

INGREDIENTS: Jojoba Oil*, Castor Oil*, Baobab Oil*, Tamanu Oil*, Essential Oils of Orange*, Lavender*, Geranium* and Peppermint*

*ORGANIC

 
Customer Reviews
Write a Review
Ask a Question
Back to Kiehls for me
This absolutely destroyed my skin. I've never really had issues with acne, but after a week of using this along with the baby bar after my face erupted with a mixture of white heads and black heads. At first I thought it was the purging process, so I stuck with it. It got to the point where my skin was so bad I was embarrassed to be seen. I watched the tutorial videos and read several of the blog posts on this site, so I'm sure I'm following the right process. Maybe I didn't need the oily and shouldn't oil cleanse every night, but I will never use this product again.
Hi Lili, Thanks so much for taking the time to review our Cleansing Oil! We appreciate your feedback and are so sorry to hear that this product didn't give you the results that you had hoped for. I have reached out to you via email with a solution that I hope you'll find helpful. Thanks again + please feel free to contact us at hello@primallypure.com if you have any remaining questions or concerns. All the best,
04/24/2020
Jennifer R.
United States
My thoughts
So far, I love the product and how my skin feels. I have VERY oily skin. Very. So, I've never put anything oily on my skin one day of my life. That was a major hurdle for me; and, I was flat out astonished that my skin wasn't oily, my pores shrunk and cleared. My only issue is that I still have major cystic acne; it hasn't cleared up at all. It took the pain out of them. It used to hurt to move my face. That has since soothed, but the large red lumps are still everywhere. Help!!!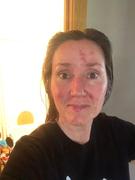 10/12/2019
Christina
United States
Soft glow
I wanted to wait a few weeks before reviewing this. Well it's been a little over a month and I LOVE IT! My face has a soft glow to it and it has definitely aided in lowering the oiliness my skin gets by mid afternoon. I didn't have terrible acne, more just a few blemishes around jaw line and chin, which have significantly diminished. I purchased this with the baby soap and geranium facial toner and followed the double cleanse method, but I will say I stopped that - the baby soap seemed a bit drying to me. So at night have been washing face with noxema (I know contradictory - but it works) then using half tube of oil and rubbing it in as moisturizer. If use in the morning, I will use the geranium toner after the oil to remove extra oil and mattify my face. Btw - the geranium toner has a faint scent that is not overpowering and mildly pleasant. If you purchase the oil - definitely purchase a facial toner to use with it.
08/05/2019
Rosemary V.
United States
The best thing I've ever done for my face!
I am so in love with this product! I have struggled with acne all my life and recently I've been moving a lot and to different climates and my face has had the hardest time getting acclimated. One of my good friends recommended this line to me and I now recommend this product to everyone I know! It smells so good and I catch myself getting overly excited to use it every night :) 10/10 would and do recommend!!
THIS IS LITERALLY EVERYTHING
This stuff is THE best thing I have ever put on my face. I don't think I will ever go back to another cleanser. Feels like a facial that I get to have every single night. After cleansing with this oil my face actually feels clean and nourished! If you're debating on buying this or not, YOU SHOULD.
v