Let the rich aroma of the season transform washing your hands into a ritual that allows you to pause and enjoy a moment of peace.
Detoxify your skin and deliver wildcrafted nutrients that are ripe with antibacterial, antiviral + antiseptic properties to powerfully protect your health. Gently cleanse and instill a sense of warmth and wellness every time you wash your hands with the Autumn Hand Soap.
The Autumn Hand Soap is packaged in a recyclable 4 oz. glass pump bottle.
Cardamom: Sweet and spicy with woody undertones, this invigorating oil improves focus + supports respiratory function.
Wild Orange: A mood and immunity booster that powerfully purifies with a sweet, refreshing aroma.
Blood Orange: This bright citrus oil is rich in flavonoids that provide antioxidant benefits to support skin and overall health while helping to ease nervous tension.
Cinnamon Bark: Fairly traded + ethically farmed, this fragrant, warming aroma contains cleansing and anti-inflammatory properties to fight sickness and reduce stress.
Cacao: This rich, grounding oil deeply relaxes, relieves anxiety and is loaded with antioxidants to boost skin health and overall well-being.
Ocotea: Similar to cinnamon, this sweet + spicy oil calms inflammation, gently cleanses and creates a balanced mind and body.
Manuka: Packed with antibacterial and skin-healing properties, its soft, earthy aroma soothes and stabilizes the nervous system.
Roman Chamomile: This soothing oil supports a peaceful mindset, minimizes stress and deeply relaxes.

Apply 1 pump, lather for 20 seconds, breathe deeply and rinse.

 

INGREDIENTS: Aloe vera juice*, coconut oil*, potassium hydroxide, olive oil*, glycerin, sunflower oil*, essential oils of cardamom*, wildcrafted orange, blood orange*, cinnamon bark, wildcrafted cacao, wildcrafted ocotea, wildcrafted manuka and roman chamomile*, guar gum, rosemary extract, shea butter*, citric acid.

*ORGANIC

The hand soap base is crafted using renewable energy to support a more sustainable earth.

 
Customer Reviews
Write a Review
Ask a Question
10/01/2020
Emily
United States
Fall in a Bottle
Literally smells like fall in a bottle! I'm loving all the clean ingredients, and the sleek design of the packaging. It looks great in the guest bathroom and by the kitchen sink and smells amazing every time someone uses it!
09/29/2020
Lisa M.
United States
Wonderful smell, but pricey
Love the smell of this soap and knowing it is all clean ingredients. But after seeing how small it actually is, I just feel it is too pricey to purchase again.
09/28/2020
Carol
United States
Perfect
I LOVE this soap! The scent is fantastic. As soon as I rub this between my hands, I stop and inhale deeply. It's just as much of an aromatherapy experience as it is a soap. It suds very well with just a small amount. I love Primally Pure's non plastic packaging. This pretty bottle will look great in any bathroom or kitchen.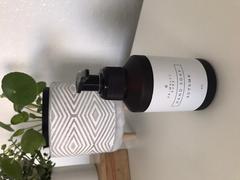 09/25/2020
Maria .
United States
Smells amazing, but very dry
I wanted to love this especially after buying two at 24$ each. The smell is unlike anything else, pleasant and fall like. But my hands feel so dry afterwards.
Hi Maria, Thanks so much for taking the time to review our Autumn Hand Soap! We're sorry to hear that you find this product to be drying to your skin and have reached out with a solution that we hope you'll find to be helpful. Please feel free to connect with us at hello@primallypure.com if we can be of any further assistance. All the best,
v