We've spent years researching and formulating with safe, effective ingredients to create a gentle and non-toxic deodorant that actually works.
Primally Pure natural deodorant contains a small amount of baking soda to combat odor and is fortified with kaolin clay (powerful detoxifier) and non-nano zinc oxide (soothes irritation).
Made with other good-for-you organic ingredients including grass-fed tallow, fair trade coconut oil, arrowroot powder, beeswax and essential oils.
Lavender is highly versatile helping to heal irritation, calm inflammation and combat bacteria.
Click here to read up on the hazards associated with conventional deodorant and the benefits of using ours.

Apply a few swipes to each pit for all-day odor protection.
Store in a cool place away from direct sunlight. If exposed to extreme heat, place product in fridge to restore it to a normal state.
Best if used within 6 months.
For more helpful information on using natural deodorant, click here.

 

INGREDIENTS: Organic Arrowroot Powder, Organic Extra Virgin Coconut Oil*, Tallow from Grass-Fed Cows, Organic Beeswax, Baking Soda, Non-nano Zinc Oxide, White Kaolin Clay, Organic Lavender Essential Oil

*FAIR TRADE

 
Customer Reviews
Write a Review
Ask a Question
08/09/2019
Stacey W.
United States
Only natural deodorant that survives Crossfit intense workouts
I was so impressed because I had no negative skin reaction to primally pure as I have with other natural deodorants. I love the smell and it keeps up with even my most intense workouts! Definitely the only deodorant I'll ever use again.
08/16/2019
Hannah C.
United States
Life Changing Deodorant
I can honestly say switching to this Deodorant made me feel physically better! The previous product I was using under my arms was rated 9/10 on the toxicity scale. When I switched, I felt better and my mood improved. The lavender essential oils are very calming. After a good sweat, there is still no body odor smell! Two weeks after using this, I feel like my armpits are detoxed of all the harsh chemicals I was previously using. I even bought one for my Mom! I have been recommending it to friends as well.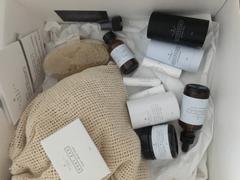 Hi Hannah, Thank you so much for sharing your experience with us and we're so happy to hear that you have found success with our natural + good-for-you deodorant! We think that it's awesome that you've got your mom on board and we hope that you continue to spread the good word about Primally Pure! :) We're always happy to help over at: Hello@Primallypure.com if you ever have any questions or concerns. Best,
Damaged product
I love the item however the inside edge was cracked and broke off when I received it- not the cover. I've sent 2 emails ( one a photo) to customer service but have not gotten a reply. I can't use it because it will cut me- very sharp!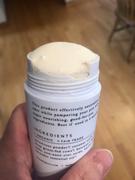 Hi Rose, Thanks so much for taking the time to review our Lavender Deodorant! We're so grateful for your feedback and are sorry to hear that your recent order arrived faulty. I have contacted you via email with a solution that I hope you'll find helpful. Additionally we're also sorry to hear that you've attempted to be in touch and didn't hear back. I have accessed our email records and I don't see any from this particular address so I'm not quite sure what could have gone wrong. We strive to do our best to answer customer emails promptly with a suitable solution, so going forward we hope you have a better experience with us Thanks again and please feel free to reach out to us if we can help you further! All the best,
08/19/2019
Jessica D.
United States
Love this product!
This is a great all natural deodorant. The only downfall is it really doesnt help me stop sweating, but that's ok because our bodies need to sweat. However, it really helps with smell. Before I used this and was using regular deodorant, after a day I would still smell a little under my left arm but with this that completely disappeared. And even if I forget to put it on one day, I dont get any BO. Its pretty amazing! I recommend it to everyone I know.
05/03/2019
Thelma A.
United States
Really wanted to like it but....
Liked the smell of the product. Very light smell. I used it for two weeks. After two weeks I developed severe irritation under both armpits. Caused my lymph nodes in my armpits to swell up. It couldn't mask my sweat well enough either. I had to stop using it immediately unfortunately. I thought that this would be a good alternative while pregnant but it didn't work for me. I wouldn't recommend it, if you are a someone who sweats a lot. I work in the hospital on my feet back and forth all the day and you could still smell my sweat. I really wanted to like it but it was a no for me.
Hi Thelma, Thanks so much for leaving a review! We appreciate your feedback and always take it to heart :) We're sorry to hear about the irritation you experienced while using this product and have followed up with you via email with a solution that we hope you'll find helpful! Thanks again and please feel free to reach out if I can help in any other way! All the best,
v