Minimizes inflammation + breakouts, brightens uneven skin tone, clarifies complexion.
Anti-bacterial and brightening ingredients (including Turmeric Oil, Marula Oil and Green Tea) balance oil production, purify pores, diminish discoloration from scarring + sun damage, and even skin tone to create clear, glowing skin.
Our Clarifying Serum has a fresh, floral and citrusy aroma and is packaged in a glass bottle.
Incredibly high in anti-inflammatory, antiseptic and anti-bacterial properties, Turmeric Essential Oil is effective in treating acne as well as redness from inflamed/active blemishes, while also lessening hyperpigmentation.
Marula Oil has been traditionally used for centuries in South Africa to calm inflammation, protect + regenerate skin cells and give the complexion a radiant glow through its impressive antioxidant profile and rich concentration of Vitamins C and E.
Green Tea's main active ingredient, EGCG, is a potent antioxidant with proven capabilities to powerfully fight acne and inflammation. Green Tea EGCG effectively reduces sebum secretion while also boosting hydration, making this ingredient ideal for oily, dry or combination skin.
Manuka Essential Oil is 20-30 times more effective than Tea Tree Essential Oil in fighting bacteria - basically, a breakout's worst nightmare!
Neroli Essential Oil is powerful in both its intoxicating scent and beneficial properties. Neroli effectively combats inflammation, rejuvenates skin cells and reduces scarring while also balancing the skin's oil production.
Sweet Orange Essential Oil stimulates circulation, providing skin cells with much-needed nourishment in the form of oxygen. This uplifting + fresh essential oil also brightens the complexion, giving the skin a healthy glow.
A natural energizer and mood-booster, Grapefruit Essential Oil is also known for its ability to reduce/prevent acne and improve overall skin health due to its stimulating + antimicrobial properties.

Massage 4-8 drops into damp skin after cleansing for a clear + radiant complexion.
Best if used within 12 months.

 

INGREDIENTS: Jojoba Oil*, Prickly Pear Seed Oil*, Marula Oil*, Green Tea EGCG, Grape Seed Oil*, Essential Oils of Sweet Orange*, Turmeric*, Manuka, Grapefruit* and Neroli

*ORGANIC

 
Customer Reviews
Write a Review
Ask a Question
07/27/2019
Lena W.
United States
When you use it right, it's amazing!
I bought the clarifying serum after reading some reviews that sounded extremely promising. I had already been using the cleansing oil everything spray, so I was excited to round it all out with the serum. After about a week, I felt my skin was actually looking a bit worse, so I reached out to customer service. They were SUPER helpful and sent me some links to blog posts to ensure I was following the proper steps for oil cleansing serum use (turns out I wasn't). After about a week of proper use, my skin is glowing and my hormonal acne is almost gone. This product (and everything else I use from Primally Pure) is worth every penny, especially with such an amazing customer service team to help.
I want to bathe in this serum!
I started using this as spot treatment, mainly to test it out on my skin but also I wasn't sure I needed it all over my face. I wish I had started using it on my entire face sooner, because it is amazing! I love how soothing it is and how it helps actually heal my face. This was just overnight and I can't wait to see how much more my face heals! I also love the scent from all of the oils blended. It is like aromatherapy for me too! For those with scent worries, it smells like you'd think it smell, looking at its ingredients. It does not give me a headache either. I have worn the serum during the day, but I typically just wear it in the evening. Be sure to put it on enough time before bed, so it has time to soak in / not just waste on your pillow. I use a gua sha and try to have the serum on at least an hour before bed. Love this serum!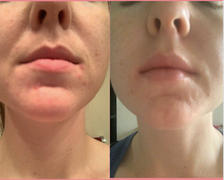 Hi Lauren, WOW! Clarifying Serum + Gua Sha are a powerhouse combo and your feedback is music to our ears! :) We thank you for taking the time to leave your thoughts and hope that you will reach out to us over at: Hello@Primallypure.com if you have any questions or concerns in the future. All the best,
07/30/2019
Dana L.
United States
WOW
Okay look. I know you don't know me, and I don't know you, but listen. I NEVER believe in overnight skincare anything. I'll save you the story on my acne journey and issues and hormonal everything and how as much as I take care of my skin and body nothing seemed to finally seal the deal. UNTIL. I kid you not when I tell you this serum has CHANGED THE GAME. It has helped SO MUCH clear up my bumps and I believe it helped keep what *would've* been a monster cyst under control and then pushed it out the door much faster than normal. I am only using it at night right now as I'm still using another serum (more expensive, dif company, helps with dif issues but not as good as this one) during the morning. (I also do think this serum would be a tad heavy for my already oily prone face in the morning during the summer but that is just off one time using it then). Anyway. GET THIS SERUM. You will not be sorry. And that's the tea.
unbelievably good
i have NEVER written a review.... for anything. the clarifying serum is just so good i couldn't resist. if you are debating, GET IT. (photos attacched of how this serum cleared up a gnarley zit in less than 48 hours)
Hi Kate, Thanks so much for leaving a review/pic on our Clarifying Serum! We're SO thrilled to hear that its a match made in skincare heaven, and we must say, "You glow girl!". Thanks again! Best,
Wanted to love it...
I've used the fancy face serum for months with great results in hydrating my skin and it not becoming overly oily. I was hoping this serum would be similar but have some other properties that would help occasional breakouts. Instead this serum actually gave me cystic acne like breakouts. I thought for sure it was not the serum so I went off it for a bit and then used it again a week or two later but the acne returned, so unfortunately I have a bottle of this expensive serum that I can't use. I know others have had good results so I guess it just depends.
Hi Christine, We're sorry to hear that the Clarifying Serum didn't agree with your skin! We have followed up with you via email with a solution we hope you'll find helpful and look forward to speaking with you. :) Best,
v