Customer Reviews
Write a Review
Ask a Question
08/13/2019
Priscilla R.
United States
Decadent Whipped Butter
OMG! This smells like an almond pound cake! It is decadent and rich, but since it's a whipped texture it's not as heavy as an average body butter. Can I give this 10 stars?!
Hi Priscilla, Our Almond + Vanilla Body Butter smells SO delicious that we would have a hard time telling the difference between a jar of it and a fresh cake in a blind smell test. :) Enjoy!
05/05/2020
Isabela O.
United States
The only thing I put on my body.
This has been the best purchase I've made this year. Honestly it hits every spot that I'm looking for in terms of skincare. I have dry skin (from the east coast now living in California) therefore my body requires a lot of added moisture. This product takes care of the moisture and doesn't make me feel dry again for the rest of the day. Not to mention it smells heavenly, application is so smooth (a little goes a very long way), it doesn't leave you oily, and it has helped reduce appearance of cellulite & small scars (I dry brush too!). Overall- this product will forever be my go to.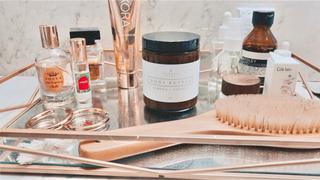 09/10/2019
Tara H.
United States
Body Butter
It is by far the BEST natural body butter I have ever used. I'm not only in love with it, but my skin feels so much softer. This is a must have in my house.
07/19/2019
Dolores R.
United States
almond butter cream
I truly love this product. I gave my daughter in SD a jar and she uses it all the time. I know you won't believe this but my dog had dry patches on his fur and was biting the fur--I put the cream on those areas and he didn't itch there any more. I told the vet about it when I took him in.
Almond + Vanilla Body Butter
I just received this product this past week and initially was hesitant due to the price point. I will say that after three days of using it I'm already hooked. It's the most moisturizing body butter I've ever used and the almond + vanilla scent is just enough without being too overwhelming. I've been using a dime size amount and it's enough for my entire torso/neck with enough left over to moisturize my hands. A little definitely goes a long way. Highly recommend this product.
v