Customer Reviews
Write a Review
Ask a Question
10/22/2019
Cierra H.
United States
Please Provide Instructions
This product would be improved greatly if it came with usage instructions. I am new to gua sha and need guidance and instruction, so it would have been a HUGE help to have that included with the stone. I understand there are numerous techniques and methods to using these stones, but I think Primally Pure could provide some basic tutorials to help people get started. Instead I'm having to do searches on Google and YouTube.
Hi Cierra, We went ahead and sent you an email that contains a link to our Gua Sha Webinar that we think you're going to love! :) All the best,
10/02/2019
KDee K.
United States
Amazing
Already seeing results & I've been using it about 5 days. I just wish they sent you a video of how to use it as soon as you ordered it.
10/10/2019
Jennifer H.
United States
Formal skeptic, current believer
I am pushing 40, and I have been getting botox several times a year for the past 3 years, and I love the results. I don't like the fact that they don't last. I've been using this gua sha tool for about a month, and I can feel and see a difference on my entire face. It's hard to tell how well it's working on my forehead because the botox is still fresh there, but my cheeks, under eyes, and jaw line look and feel smoother. Even if I keep using botox, I will keep using this tool as well. I love how I can see my skin color improve immediately, and how I can see my skin looking tighter overall. My favorite part is the toothed edge for my forehead, but all of the sides do what they say they will do. I highly recommend.
02/19/2020
Caiti W.
United States
Gua Sha Stone is a must
I was skeptical about adding gun sha to my skincare regimen but after a lot of research I landed on purchasing this stone. It is so beautiful, cool to the touch and has a great case for it. The instructional videos that were sent following my purchase were incredibly informative and helped give an indepth tutorial on how to get the best benefits from the stone! Highly recommend adding this to your routine.
04/16/2020
Kayleigh S.
United States
GUA SHA-SOLD!
I have loved primally pure products for just over a year now! From the first Blue Tansy Deodorant, I was sold. I have been participating in the gua sha ****** 14 day challenge and can already see some lightening in a discoloration I have near my cheekbone. My skin is the healthiest it has been in years. Once I turned 30, I really started focusing on my skin and I'm so glad I found PP. <3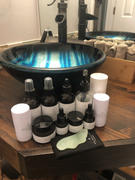 v