Customer Reviews
Write a Review
Ask a Question
01/05/2020
Coco
United States
I felt like I had a new face!
For real. I just rinsed off the Plumping Mask and immediately had to come write a review. What. I removed the mask, looked in the mirror and seriously felt like I had a new face. Fresh is an understatement. So, so, so excited masks are finally a part of the PP line. I've been a customer for years and feel like the products just keep better and better - which I didn't even think was possible!! Thank you PP, keep 'em coming. :)
01/07/2020
Kelly
United States
Smooth skin but very fragrant
I'm a longtime PP fan, always will be. I received the plumping mask and it left my skin smooth and not dry. But the Rose hip smell was so strong it was a bit overwhelming. Even after I washed it off it was a bit over powering for me.
12/31/2019
Kara
United States
Glowing!
My skin felt like silk and I noticed a difference in the fine lines around my mouth and under my eyes. I was hydrated in the areas that I am usually dry and my skin looked and felt like it was glowing.
01/02/2020
Lauren
United States
why can't all masks be this great?
Primally Pure is always great, but their masks hit it out of the ballpark! I've never met a mask so pretty, luxurious, and effective. I've tried all three and they are all great in their own right, but I'm prettttty sure, this mask is my favorite! It makes my skin feel so good and healthy! LOVE IT!! It calms and hydrates - 2 things I desperately need!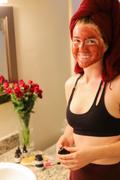 12/30/2019
Rea
United States
Love!
SO beautiful. Can't believe the colors of the masks, reflects on the high-quality ingredients used. Plumping mask smell is straight heaven. Love the raw honey as the first ingredient, a little goes along way. Love them so much!
v