Naturally plumps skin and promotes a youthful appearance.
This rejuvenating mask visibly firms skin, stimulates cell renewal and promotes circulation + collagen production. Ingredients including Hibiscus Powder, Bakuchiol and Rosehip Seed Oil work together to support mature, aging or dehydrated skin states. The result? Youthful, nourished, vibrant skin.
Our Plumping Mask has a deep, floral aroma and is packaged in a glass jar.
Raw + Local Honey: Honey is known as a natural humectant helping to infuse hydration into the skin and expedite the healing process. It's rich in antibacterial benefits to calm inflammatory skin conditions and contains potent enzymatic properties to gently exfoliate + refine skin texture.
Hibiscus Powder: Known as nature's botox, this powerful plumping flower is a natural source of AHA's (alpha-hydroxy acids) and antioxidants which stimulates cell turnover and hydration to reveal more rejuvenated, even and youthful skin.
Bakuchiol: This natural retinol alternative, sourced from the Babchi plant, accelerates cell renewal, minimizes signs of aging and improves skin texture, tone + tightness without any associated irritation or redness from conventional retinol.
Rose Kaolin Clay: This pink, purifying clay stimulates cell renewal and effectively refines skin texture without over-drying. Potent in the naturally-occurring compound, Silica, it helps to restore elasticity, promote more supple skin and deliver moisture to dry/mature skin states.

White Kaolin Clay: This gentle, mineral-rich clay naturally exfoliates to detoxify and soften skin. Its balancing properties help to purify pores and calm inflammatory conditions - without irritating or stripping the skin's protective barrier.
Lactobacillus Ferment: A powerful probiotic-based natural antimicrobial that not only provides broad-spectrum antimicrobial protection but contains potent hydration properties to help to increase moisture levels and boost the overall health of the skin.

Apply a thin layer to face 1-3x/week after cleansing, while the skin is still moist. Relax for 15-30 minutes, rinse with warm water and finish with toner and skin-specific serum.
Best if used in 6 months.
Skin Tip: Try multi-masking by applying specific masks to different areas of the skin to support diverse skin needs.

 

INGREDIENTS: Raw Honey*, Kaolin Clay, Rosehip Seed Oil*, Lactobacillus Ferment, Rose Kaolin Clay, Hibiscus Powder*, Coconut Lactobacillus, White Rose Hydrosol*, Witch Hazel*, Bakuchiol, Essential Oils of, Jasmine*, Geranium*, Cypress*, Frankincense* and Astaxanthin

*ORGANIC

 
Customer Reviews
Write a Review
Ask a Question
01/05/2020
Coco
United States
I felt like I had a new face!
For real. I just rinsed off the Plumping Mask and immediately had to come write a review. What. I removed the mask, looked in the mirror and seriously felt like I had a new face. Fresh is an understatement. So, so, so excited masks are finally a part of the PP line. I've been a customer for years and feel like the products just keep better and better - which I didn't even think was possible!! Thank you PP, keep 'em coming. :)
01/07/2020
Kelly
United States
Smooth skin but very fragrant
I'm a longtime PP fan, always will be. I received the plumping mask and it left my skin smooth and not dry. But the Rose hip smell was so strong it was a bit overwhelming. Even after I washed it off it was a bit over powering for me.
12/31/2019
Kara
United States
Glowing!
My skin felt like silk and I noticed a difference in the fine lines around my mouth and under my eyes. I was hydrated in the areas that I am usually dry and my skin looked and felt like it was glowing.
01/02/2020
Lauren
United States
why can't all masks be this great?
Primally Pure is always great, but their masks hit it out of the ballpark! I've never met a mask so pretty, luxurious, and effective. I've tried all three and they are all great in their own right, but I'm prettttty sure, this mask is my favorite! It makes my skin feel so good and healthy! LOVE IT!! It calms and hydrates - 2 things I desperately need!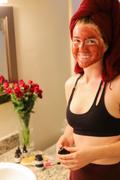 12/30/2019
Rea
United States
Love!
SO beautiful. Can't believe the colors of the masks, reflects on the high-quality ingredients used. Plumping mask smell is straight heaven. Love the raw honey as the first ingredient, a little goes along way. Love them so much!
v