Customer Reviews
Write a Review
Ask a Question
06/10/2019
Makenzie S.
United States
I love this deodorant and would not switch, but packaging is just okay
I love using the deodorant and have recommended it to friends and family. The geranium smells absolutely amazing, and I truly enjoy using it and wouldn't switch. However... my constructive feedback would be that the packaging needs work: when you get to the bottom of the tube, there is still a good half-inch of product in the plastic area (but it scrapes your armpits and is below the top so you can't apply it normally). I use my fingernails, dig it out, and apply it by hand, but this isn't a great experience. To reduce waste and keep the experience awesome, I'd love to see some updates from PP here!
06/08/2019
Emily T.
United States
Break out
Unfortunately the deodorant caused my arm pits to develop sores and rash. I have had to stop using it
07/13/2020
Janine T.
United States
Love the packaging and content, but..
Product is "crumbly" upon opening; doesn't stick to the center twist; push up is ok, down not so much. Outer packaging appealing.
Hi Janine, Thanks so much for taking the time to review our Geranium Deodorant! We're so sorry to hear that your product arrived this way and have contacted you to let you know we'll be sending a replacement. It sounds like our product was exposed to extreme heat (which is often the case this time of year!) causing the consisitency to alter and crumble. Once your replacement arrives, we recommend placing your deodorant in the fridge after it arrives to cool it down before attempting to open. Once it's cool, try twisting the deodorant up just a bit prior to removing the clear lid and twisting the cap both directions (to the left and then to the right). This should help with the trouble you experienced. We appreciate you sharing your feedback and please feel free to reach out to us at hello@primallypure.com if we can be of any further help! All the best,
10/23/2019
Elizabeth C.
United States
LOVE this product!
I have searched high and low for a deodorant that actually works and my search ended the day I tried Primally Pure. I'm on the subscription and never looking back :) I love knowing that I am using a product with safe, healthy ingredients! I have four daughters and they are just starting to use deodorant and I love that I can confidently hand over a product that won't harm them. So thankful for this gem of a product!
04/09/2020
Tonya M.
United States
Love this deodorant!
As usual I love this one too! We have tried the charcoal, blue tansy, lemongrass, and now this one. My husband and I both love how natural these are, and how effective they are. We have both had sweating problems and since switching to Primally Pure for our deodorants our sweating issue is gone!!! If you love geraniums than this scent is for you!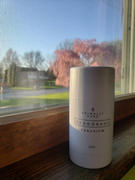 v