Customer Reviews
Write a Review
Ask a Question
11/11/2019
Lauren L.
United States
Biggest Fan
I've been using this product for 2-3 years and it rocks. I work A LOT- washing and drying my hair is my least favorite. This dry shampoo basically lets me wash once a week (go ahead and judge me I don't care). On day 5-7 of unwashed hair with using my dry shampoo I get the most compliments so there you have it!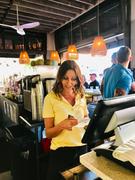 07/18/2019
carly y.
United States
Purchase Now!
I was using a white powdered dry shampoo until I realized it was full of toxic ingredients (it was an 8 on the Think Dirty app) yikes. I've never liked aerosol dry shampoos because they always make my hair feel greasier! Then I stumbled upon this product. I have auburn hair and this blends magically. I only wash my hair twice a week and this removes grease and provides amazing volume. All I have to say is you won't regret this purchase. The only criticism that I have is the bottle doesn't travel that well. Even when twisting the cap to "closed" some powder still escapes. This stuff is gold and I hate to waste any at the bottom of my toiletry bag.
02/20/2020
Amanda H.
United States
Works Well But Too Much Scent
The shaker bottle makes the powder easier to apply, though still not as easy other spray brands. It works well (applied at night and slept on) but again not as well as my (not clean) spray dry shampoo brand. The fact that it is clean and does a decent job would be enough but the scent is very overpowering, prohibitively so for me personally. Everything we use as women is scented, I wish unscented was an option more often, especially with this.
08/09/2019
Melissa C.
United States
Amazing
Great stuff, and lasts forever. I can use it every day without feeling like I'm damaging my hair and body. I only wash my hair 1-2 times a week now thanks to this stuff!
v