I AM: PP's Holistic Esthetician, content curator and jet setter
SKIN STATE: combination, dry/dull + acne-prone
Here's what you'll get in Courtney's Bundle:

Please note: because we've curated this bundle specifically for this skin state, we are unable to make substitutions. 

AM: I begin by splashing my face with warm water and then spritz a bit of Everything Spray onto an organic cotton round. I then take that and gently sweep it across my face to create a clean canvas for the day. I then spray both the Neroli + Lavender Complexion Mists onto my face and apply 4-5 drops of Clarifying Serum while the skin is still damp to help lock in moisture.
PM: First, i start by oil cleansing to remove any residue that may have accumulated throughout my day (also removes eye makeup!) Next, I follow up with which ever Complexion Mist my skin is needing that evening and apply about 5-6 drops of Clarifying Serum. If my skin is still craving a bit of moisture I'll follow up with a bit of Palmarosa + Mint Beauty Cream to finish!

 

I'll spritz my Complexion Mist before AND after applying my serum or Beauty Cream. I feel like it adds another layer of hydration + healing.

Soothing + CBD Serum is my skin's saving grace (seriously minimizes deeper cystic acne almost overnight).

I'll also alternate my masks throughout the week depending on how my skin is feeling - but the Plumping Mask takes the cake!

 
Customer Reviews
Write a Review
Ask a Question
04/07/2020
Daniela .
United States
Courtney's bundle is a must have
I began my journey into natural products a few months ago beginning with primally pure's deodorants , which are amazing! I decided to take the plunge and dive into a completely natural beauty regimen. ( I started with Blue tansy beauty cream and fancy serum , which I absolutely luv - These do not some in bundle- I purchased separately last month). I chose Courtney's bundle based on her skin conditions , that's me!, and so.. I made the investment , crossed my fingers and put in my order. Like always the products came beautifully packaged and all in glass containers (as they should). I have been using this bundle religiously day and night ( I did add the baby cleansing bar to do the double cleansing I have read so much about and the Gua Sha to join in on the 14 day challenge). I am now at one week of using the products in this bundle and I can see a HUGE difference already, My skin has a beautiful healthy glow, it is smoother and little pesky break outs have diminished to nearly non existent. If you are on the border jump in! These products are all amazing and trust me your face will thank you for it. I can't imagine ever using anything else! Thank you for making clean products that work incredibly well and produce amazing results!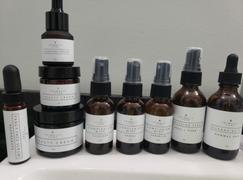 BB
04/28/2020
Bethany B.
United States
Loving it so far
I have been using this for over a week now and can already feel a significant change in my skin. It is no longer dehydrated and has been less oily. I was worried it was going to take a lot longer, but it really doesn't. The beauty creme is so indulgent. I don't use it every night but a little goes a LONG way. I also got a gua sha stone as well and have been loving that as well. If you are on the fence, take the plunge!
08/17/2020
Julie
United States
Every step is a delight
I was skeptical about the oil cleansing first and foremost, but the more I do it, the more I am a believer! I love the spa-like feeling of leaving the warm towel over your face until it cools. What a beautiful addition to my nightly ritual. Just like when I switched to the Primally Pure deodorant, it didn't take long for me to fall in love. My face now feels clean and cared for - never dry or irritated. The lines around my eyes are going away. I don't even feel like I need to scrub my face in the mornings (even after a workout.) Thank you, Primally Pure, for your magic!
05/09/2020
jacquelyn c.
United States
LOVE
In love, this was a great idea. I loved finding someone who had similar skin to me and just buying the products together... and BONUS at a discount :) so far so good. I did purchase the CBD serum that she recommended too and been enjoying that!
04/15/2020
Karly
United States
The best.
It's been like two days of using these products and I already see a huge difference! My skin super dry and nothing has ever solved that until now!! Just two days!! My skin has seriously never felt so moisturized!
v